I'm continuing my rundown of the massive Democratic primary field, starting with the lowest ratings and working my way upward. You can check out my previous articles by following the links below. And, you're always welcome to comment.
Former Vice President Joe Biden
-New Jersey Sen. Cory Booker
Senator Cory Booker's (D–New Jersey) announcement that he will be seeking his party's nomination for president set off a flurry of speculation about the candidate's ideology, chances of success, and whether or not his drug dealer friend T-Bone was ever real. Depending on the articles you read, he's a hero (once went on a 10-day hunger strike, kept the budget of a typical New Jersey food-stamp recipient for a week, carried a woman out of a burning building, helped shovel a 65-year-old man's driveway and rescued a freezing dog). I don't know if any of these things are anymore real than his drug dealer friend and I'm not all that impressed with some of them (my son has been shoveling the driveways of older people in our neighborhood, entirely for free, often without their knowledge, since he was in junior high school).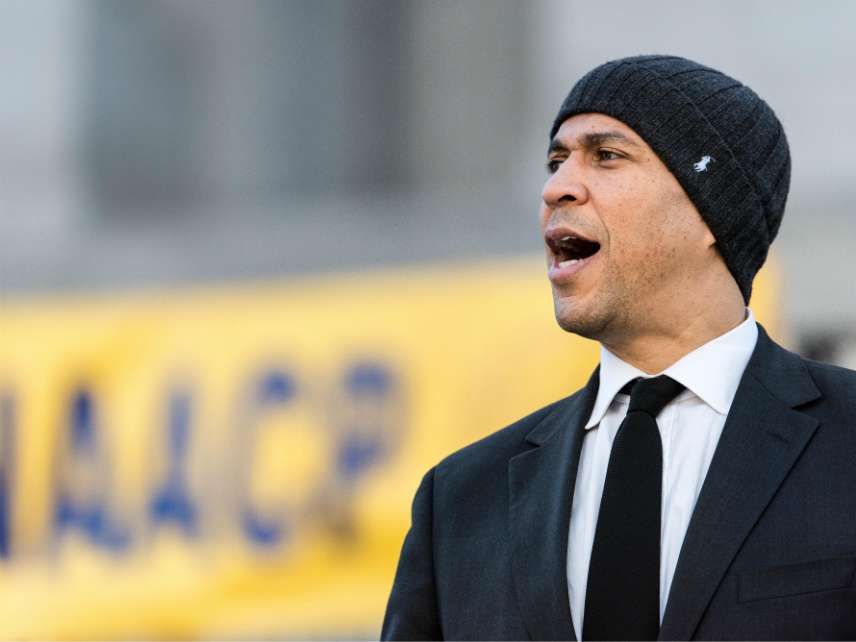 Booker, 49, was the first black US senator from New Jersey and the first vegan senator. Before that he was mayor of Newark, where he'd been on the City Council since he was 29 years old.
He's a career politician who is also a member of the political elite, worth more than $4.1 million and gifted with a newly-signed New Jersey state law that will allow him to run for president and the U.S. Senate at the same time, if he chooses.
Although he derides Citizens United v. FEC, Booker already has a super PAC helping him with his election. And, if you're into following the money, First Daughter Ivanka Trump and her husband, Jared Kushner, collected $41,000 worth of donations for Booker's 2013 Senate special election campaign and conducted a fundraiser for him at their Park Avenue home. My reporter spidey senses are all tingly over that news.
Critics point to Booker's popularity with Wall Street: From 2013 to 2014, when Booker ran in both a special and a general U.S. Senate election, he brought in $2.2 million from the securities and investment industry, more than any other senator that cycle, according to OpenSecrets.org data. From 2017 to late 2018, he fell lower on the list, with $439,000 from Wall Street workers and PACs. He also drew flack in the 2012 presidential election for saying the Obama campaign's attacks on Mitt Romney's Bain Capital were "nauseating." Booker does, however, vote against Wall Street interests occasionally.
In February 2018, Booker announced he would no longer accept corporate PAC contributions, one of now seven senators to make such a pledge. The word "corporate" is key: Booker has since taken donations from the PACs of membership organizations and unions. Yeah, that would make him seem a bit unethical. In his campaign finance disclosure report covering July through September, he listed $9,225 received from a handful of PACs, including those connected to the Transport Workers Union, National Air Traffic Controllers and Environment America Voter Action group. Booker has also raised corporate PAC money for his 2020 Senate reelection campaign — and he can transfer all that cash to his presidential campaign effort: An analysis by NJ Advance Media found that two-thirds of the $505,000 in PAC donations Booker received came from corporate committees from January 2015 to January 2018.
Booker's January 2017 vote opposing a symbolic measure to allow prescription drug imports from Canada faced backlash, especially with supporters of Sen. Bernie Sanders, who backed the amendment. Booker was one of 13 Democrats that voted "no", saying the measure didn't guarantee the safety of the imported drugs. (He later teamed up with Sanders on new drug import legislation.) New Jersey is home to many large pharmaceutical companies, such as Johnson & Johnson, and Booker has received large donations from the industry: During his 2013 and 2014 campaigns, Booker took in almost $330,000 from pharmaceutical company PACs and employees, the second-most of any congressional candidate behind Sen. Mitch McConnell, R-Ky.
In 2014, Booker was backed by a super PAC called the Mobilization Project. It spent $532,000 supporting him, and donors included Edward Nicoll, cofounder of Structural Wealth Management LLC ($137,000), mattress maven Michael Fux ($100,000) and billionaire hedge fund manager Seth Klarman ($100,000).
Then there are his links to corporate media outfits. In March 2012, Booker co-founded a video curation startup called Waywire, which counted Oprah Winfrey, ex-Google CEO Eric Schmidt and LinkedIn CEO Jeff Weiner as investors. He reported he had an interest of between $1 million and $5 million in the company.
Former Booker donor and ally Linda Watkins Brashear was sentenced to eight years in federal prison for her involvement in a bribery scheme while leading the now-shuttered Newark Watershed Conservation and Development Corp. at a time when Booker, as mayor of Newark, was also chairman of the development corporation's board. Brashear admitted to doling out $1 million worth of contracts to family and friends in exchange for bribes. Booker and his lawyers said he was not aware of the kickback scheme and noted he never attended a meeting of the agency. Last year, a federal judge dismissed a lawsuit brought by the agency's trustees against Booker.
So there's a lot about Cory Booker that is sketchy, but I want to focus on his views on the increasingly salient issue of housing.
As rents and home prices continue to rise for likely Democratic primary voters in progressive, coastal cities, candidates for the party's nomination are expected to peddle some sort of solution.
All three sitting senators running for the Democratic 2020 nomination (Booker, Elizabeth Warren (D–Mass.) and Kamala Harris (D–Calif.)) have introduced housing bills that provide a glimpse of how they'll approach the issue.
Booker's bill—the Housing, Opportunity, Mobility, and Equity or (HOME) Act—was introduced back in August 2018, and would do two major things.
First, it would offer renters making less than 80 percent of area median income (which usually qualifies one for affordable housing or federal housing assistance) and spending more than 30 percent of their income on rent, a tax credit worth whatever amount they are spending above that 30 percent threshold. The tax credit would be refundable, meaning even those with no federal income tax burden could still benefit from it.
Booker's bill would also condition federal Community Development Block Grants (CDBG)—a federal housing grant program with a rather spotty track record—on localities adopting "inclusionary" land-use policies designed to increase housing supply and access.
The HOME Act includes a laundry list of policies that might satisfy this requirement, including a lot of things libertarians could get behind like upzoning, eliminating off-street parking requirements, eliminating height requirements, streamlining permitting, and even making development "by-right" (meaning local bureaucrats wouldn't have the discretion to shoot down a code-conforming project).
Conversely, Booker's bill would reward localities for adopting a number of more interventionist policies, including increasing the number of rent-controlled units, banning landlords from asking prospective tenant about their criminal history, and taxing vacant land.
It's not a free marketer's dream bill, but the focus on removing local restrictions on housing supply are welcome. By threatening to take away funding from more restrictive municipalities, Booker's bill includes a lot more stick compared to his carrot-offering competitors in the Democratic primary.
Warren's housing bill, also introduced last year, would have set up a $10 billion fund to reward communities that made development easier, but her bill did not threaten to take any federal funding away from cities that didn't play ball, blunting its effectiveness and making it less palatable than Booker's bill.
Harris' housing bill, by contrast, totally punts on the question of local restrictions on development. Instead, the California senator's proposal would issue refundable tax credits to "cost-burdened" renters making as much as $125,000 a year. Uh, yeah, that's about three times what I make, so you can imagine how I feel about that. Rather than make housing more affordable, this approach would likely just raise costs for renters by subsidizing demand, while doing nothing to address restrictions on supply.
It's still not a good reason to vote for him if you desire smaller government.