I'm continuing my rundown of the massive Democratic primary field, starting with the lowest ratings and working my way upward. And, my have the mighty fallen, as today I look at Bernie Sanders. You can check out my previous articles by following the links below. And, you're always welcome to comment.
Former Vice President Joe Biden
-New Jersey Sen. Cory Booker
-South Bend Mayor Pete Buttigieg
-Former Housing and Urban Development Secretary Julián Castro
-Hawaii Rep. Tulsi Gabbard
-California Sen. Kamala Harris 
-Washington Gov. Jay Inslee 
-Minnesota Sen. Amy Klobuchar 
-Vermont Sen. Bernie Sanders 
Yes, that title is oxymoron. Libertarians are all about freedom and individualism and socialists are all about collectivism and coerced support of the State. And, I admit, I don't like Bernie Sanders. I had no idea who he was until the first time I saw him on television yelling at someone and I just got a bad impression of him from the outset.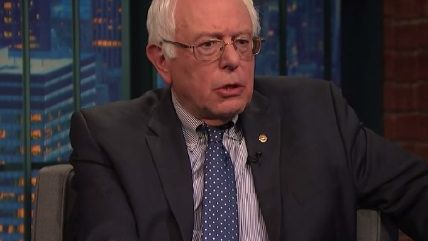 The thing is, the senator from the Peoples' Republic of Vermont is at least two-thirds of the way on the road to free minds and free markets. It's the last third that stops me cold like a bucket of Alaska glacier water to face.
Three issues frame politics — foreign, social and economic. Sanders is as non-interventionist as Ron Paul on foreign policy. He's down with legalized pot and letting people have sex with whomever they want to have sex with. And like most of libertarians who despise crony capitalism, Bernie eschews the big three rent-seeking lobbies: big investment Banks, big pharma drug dealers, and big war profiteers.
And then he goes seriously off the rails because he wants free health care, free day care, and free college tuition. But hey, nobody's perfect.
In 2016, he was compared and contrasted to Hillary Clinton and Bernie looked downright Ayn Rand-ish. The Warrior Queen (HRC), who voted for the Iraq War, which Bernie opposed, and who sees America as the "indispensable nation", flies the flag for the neo-conservative-lite wing of the Democratic Party on foreign policy. Under the Clinton administration, Goldman Sachs pretty much called all the shots out of 1600 Pennsylvania Avenue.
And compared to Trump in 2016, Sanders could have been a professor in the Austrian School of Economics, though he often takes the wrong exit and gets onto the road to serfdom.
He's not alone on that slavery superhighway. He travels with GW Bush who gave us Medicare Part D, the biggest socialized medicine gambit since LBJ 's guns-and-butter fiscal policies saddled us with the Texas-sized taxpayer bill for Medicare and Medicaid, and two huge elective wars we didn't need to fight.
Sanders certainly supported the costly federal drugging of old people at government expense, but he also thinks we should have the liberty to buy our drugs at the cheaper prices paid by our neighbors in Canada.
Okay, so I'm poking fun at the old fella, but that's because he's pretty close to being a libertarian, but about as far from being one as you might find. It's a paradox. You have to understand socialism and not that many Americans today really do.
Socialism, as defined by both advocates and critics, is the collective or governmental ownership and administration of the means of production and distribution of goods. Democratic socialists, according to the Democratic Socialists of America (DSA), believe that "both the economy and society should be run democratically — to meet public needs, not to make profits for a few." Notice how they avoid references to collectivism or the means of production so as not to turn off people who don't wish to be socialists?
What's interesting is that the DSA, at least on their website, is unapologetically socialist. They advocate for socialism, but believe that a lack of democracy is the reason socialism failed in almost every situation where it has been tried. The DSA are fully committed to the "not real socialism" excuse for failed nations like the USSR and today's Venezuela. They see the obvious problem with corruption and dictatorship, and think that democracy is the solution.
Rather than attempting to separate democratic socialism from regular socialism, organizations like the DSA fully embrace socialism as a core component of their ideology, merely adding democracy alongside it.
This goes against the more "mainstream" view of democratic socialism pushed by left-leaning media networks and politicians like Bernie Sanders and Alexandria Ocasio-Cortez. Mainstream democratic socialists argue that what they advocate for is less like Venezuela and more like Scandinavia, often referring to it as "Nordic socialism."
There are issues with this mainstream view. For one, Scandinavian socialism is a myth. Scandinavia are capitalist countries with large welfare states and government regulation. Granted, many of the government policies in countries like Norway and Denmark operate using the same underlying logic as socialism and the countless number of economic regulations prevents anyone of sound mind from saying they have a free market.
Still even with the high degree of government (mis)management, Scandinavian countries still operate with an economy that is, at its very core, capitalist. Companies are still run privately for profit, and still compete with one another within the market. According to the Prime Minister of Denmark, "Denmark is far from a socialist planned economy." While it may not be a laissez faire libertarian paradise, it is not a socialist system. Democratic socialists, eager to make their point, often ignore that reality.
Secondly, as has already been pointed out, organizations like the DSA aren't for regulated capitalism. They are strongly anti-capitalist, and proud of it. Whatever lefty college students might claim, democratic socialism is not some kind of socialism-lite.
So how come most American don't know that? It's because we've been taught that if people vote for it, it's warm and fuzzy. People voted for Hitler and look how well that turned out.
What's worrisome is that the rise of democratic socialism has been somewhat successful. Democrats in the United States now view socialism more favorably than capitalism. According to Gallup, 57% of Democrats have a positive view of socialism, while only 47% have a positive view of capitalism. In 2010, 53% of Democrats held a positive view of socialism while 53% held a positive view of positive view of capitalism. Republican views of capitalism and socialism over the same period have remained relatively unchanged.
Yes, we should be worried. As people warm to the idea of democratic socialism, the desire for socialism and opposition to capitalism will grow. Socialism, whether it is "democratic" or imposed by a dictator, remains an increasing threat to all free and peace-loving people of the world.
Which is why, even though Bernie Sanders is two-thirds of the way to agreeing with the non-aggression principle, I wouldn't vote for him because I don't think he really understands democracy or socialism and his programs would bankrupt the country. And then there's the fact that he's a grump who keeps yelling at people.
Seriously? Do you think I'll listen to you because you yell at me?