Paul's Plans to Visit
Some people who just skip this last chapter of 1 Corinthians because it really isn't very theological, but I find Paul imparted a lot of wisdom in his farewells. And, I'm systematic, so I prefer not to leave things out, which is what some of us would prefer to do with the first subject in Chapter 16.
With regard to the collection for the saints, please follow the directions that I gave to the churches of Galatia: On the first day of the week, each of you should set aside some income and save it to the extent that God has blessed you, so that a collection will not have to be made when I come. Then, when I arrive, I will send those whom you approve with letters of explanation to carry your gift to Jerusalem. And if it seems advisable that I should go also, they will go with me. 1 Corinthians 16:1-4
Give to the Lord's Work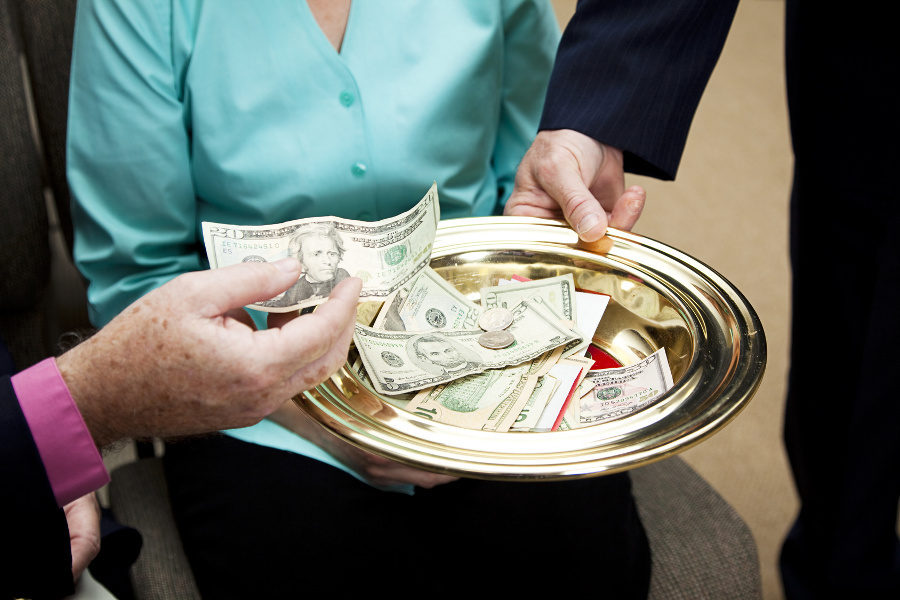 Paul had a practical philosophy of giving to the church, providing six guidelines as to how we should give. Before we look at these biblical guidelines, you must accept the Bible's premise that you and I don't own anything. Our home, cars, possessions, and money all belong to the Lord. We are merely stewards of the resources that God has entrusted to us. If you accept this premise, you probably won't object to what I'm going to teach here.
Guideline #1:
Biblical giving is not optional but mandatory. The word translated "direction" is a strong word that is frequently translated "command" or "order." Paul wrote with apostolic authority, calling for the church in Corinth to do what he had already directed the Galatian churches to do. Generous financial giving is one of the key characteristics of a mature Christian. This ties in rather nicely with the previous verse (15:58), where Paul commands the Corinthians to be "always abounding in the work of the Lord, knowing that your toil is not in vain in the Lord." It's like he's saying, "Speaking of giving yourselves fully, let's talk about financial giving."
Guideline #2:
Biblical giving starts with meeting the basic needs of believers. 
Typically, when a pastor preaches a message on money, it's in order to generate pledges for the annual budget, buy land, or build a new building. Such matters concern most congregations at some point in their church history. But that is not where biblical giving begins. It begins with a heart that cares about the basic needs of other Christians for food, shelter, and clothing. That's what the collection here in 1 Corinthians 16 is all about—sending a gift to Jerusalem so the believers there can survive. Their financial plight was due to famine, persecution, and economic sanctions against them, making it difficult for new converts to hold anything but the most menial jobs.
The above guideline indicates that we who are wealthy (every American, from a world perspective) have an obligation to help poverty-stricken believers as well as the persecuted church in foreign lands. Such support should never be treated as optional. Instead, the needs of our brothers and sisters in Christ should be an essential part of our financial giving. This Christmas, what will you give to brothers and sisters in Christ who are less fortunate? When you think about giving to others, think about all God has given you. This ought to compel you to give generously to those who are less fortunate.
Guideline #3:
Biblical giving is the believer's #1 financial priority. 
Many Christians don't give at all, and often those who do give do so sporadically. They might give two months in a row, skip three months, give one, and skip two more. Some people don't give when they are on vacation, sick at home, or snowed in. Some don't give if they miss the offering plate. Imagine standing before the Lord and explaining why you disobeyed His command to give. Do you think He'd be impressed if you explained that you just kept forgetting to write the check? We don't think that way about anything else. If our mortgage comes due when we're on vacation, we don't not pay it because we'll lose our house. The wise among us pay our house note before we go on our vacation. Why don't we take what God is owed as seriously?
Today, you may need to reevaluate your financial giving. God's Word is clear from cover-to-cover, we are to give to the Lord first, not last. This implies that giving to the Lord's work should take place before other obligations are met. Every once in a while I hear someone say, "Well, I had to take a pass on giving for a couple of months because we had some unexpected medical expenses, house expenses, etc." I don't think Paul would buy that. If we would give the first part of our paycheck, then maybe we wouldn't get into those tight spots in the first place. That's the point of the Old Testament prophet, Haggai, who told the poverty-stricken Israelites that God was putting holes in their pockets because their financial priorities were amiss. Giving should come before bill paying, before pursuing hobbies, before eating out, even before repaying debt. And, if you consistently cannot afford to give God's tithe, then you seriously need to look at your debts and income. People who pay off credit cards and don't use debt often have a lot more money to give.
Guideline #4:
Biblical giving is every believer's responsibility.
Ever get stuck by a word's base meaning? Writer, right? Responsiblity = your ability to respond. This topic is about your response to God.
It's an individual response. "Each one of you is to put aside and save …." Notice that Paul didn't excuse the poor, the slaves, the pastors, or the large family with three kids in college. Giving is every believer's privilege and responsibility. We are all to be involved in giving regularly, whether we have a lot of money or we're impoverished, whether we're children or the most senior adult.
Unfortunately, many of us have erroneously assumed that if we don't have a lot of money or are in debt, we don't have to give. Nothing could be further from the truth! The greatest examples in Scripture of sacrificial giving come from those who are in the midst of poverty and persecution. God wants and expects us to give in spite of our circumstances or lack of wealth. The Lord will honor even a meager attempt to prioritize giving.
Guideline #5:
Biblical giving should be proportionate. 
Paul wrote a believer's giving should be "save it to the extent that God has blessed you." In other words, the more we are blessed, the more we should give. There are two ways one can approach this matter. If you are giving a set percentage of your income, let's say 10%, as your income rises your giving will automatically rise proportionately. But a more generous approach to proportionate giving is to increase the percentage of your giving as your income increases. In the case of a substantial raise, you will still be left with more than you had before the promotion. The issue is: where does your heart lie?
The New Testament does not require flat 10% giving. The tithe was an income tax system in the Old Testament. There were three tithes—two tithes per year for two years and on the third year an additional tithe of 10%, making it 30% for that year. The tithes for the third year were for the poor. It worked out to 231/3 % of income over a three-year period. Yeah, most people in America could not manage that since we already have the government in our pockets for 15-40% of our incomes. Then, additionally, we are supposed to give "offerings." Israelites gave both tithes and offerings. All this was done for the national entity of Israel. A national entity needs an income tax system, so that was the purpose of the tithe. The New Testament does not command tithes for the church. The idea for the church is an offering of proportional giving or as God has blessed the believer financially. There is no percentage in this system of giving.
My personal conviction is 10% of one's income is a good guideline – a target to hit – for most people. Some people who are poor or deeply in debt may need to build up gradually  to 10% as they retire debt or their income increases. That's fine. Giving is ultimately a matter between the individual believer and God. Don't assume you're violating God's command if you truly don't have 10% to give, but don't think you're doing just fine if you're giving 10% when you're really wealthy. I would suggest that the vast majority of American Christians, if we avoided credit card debt and bought houses and cars we can actually afford, can and should give more than 10% of our income to the Lord. Sadly though, many Christians are more concerned with their standard of living than their standard of giving. For many of us, prosperity has become a greater test of character than poverty.
When it comes to giving, ask two questions:
How has God prospered you?
To what degree do you want to express your gratitude to Him for all that He has given you?
Guideline #6:
Biblical giving should not be motivated by pressure. 
Looking again at 16:2 we see that the apostle was asking that the collection be made each week so that there didn't have to be a fund drive when he arrived. He was in Ephesus as he wrote this letter, and he had plans to travel to visit Corinth in the future. He knew that his credibility and charisma were such that he could generate a huge offering with his personal presence, but he didn't want them to give under that kind of pressure.
Pressure, of course, works. Countless churches and ministries have funded vast building projects through high-pressure fund-raising efforts. Just because it works, doesn't mean it's right and Paul seems to have understood that.
In addition to the above six guidelines, there is a concluding principle that has more to do with how offerings are handled than with how they are given.
Biblical givers have a right to expect integrity and accountability from those they give to. 
Verses 3-4 explain that it is the responsibility of every congregation to entrust its funds into the hands of trustworthy members. Paul didn't say, "Give your money to me and I will handle it for you." Instead he urged the church to choose their own representatives to disburse the gifts. Obviously, integrity matters. Churches and Christian charities should have the highest level of financial accountability observable in society.
I challenge you to either continue or begin giving generously and cheerfully. Not only does gracious giving please the Lord, but there are also legitimate personal blessings involved.
But I will come to you after I have gone through Macedonia – for I will be going through Macedonia – and perhaps I will stay with you, or even spend the winter, so that you can send me on my journey, wherever I go. For I do not want to see you now in passing, since I hope to spend some time with you, if the Lord allows. But I will stay in Ephesus until Pentecost, because a door of great opportunity stands wide open for me, but there are many opponents.

Now if Timothy comes, see that he has nothing to fear among you, for he is doing the Lord's work, as I am too. So then, let no one treat him with contempt. But send him on his way in peace so that he may come to me. For I am expecting him with the brothers.

With regard to our brother Apollos: I strongly encouraged him to visit you with the other brothers, but it was simply not his intention to come now. He will come when he has the opportunity. 1 Corinthians 16:5-12
Go to the Lord's People
These verses explain how Paul and his ministry partners were willing to go to minister to believers and unbelievers alike. There are at least five observations worth making from these eight verses. First, Paul had plans and goals to share the gospel with unbelievers and build up the churches. He had a schedule mapped out. He didn't just trust God and sit on his hands. He took initiative and moved forward with holy ambition.
Do you have a plan to share Christ and build up His body? If not, why not? Today, make a promise to yourself and God to share the gospel, write down the names of three unbelievers and three believers, and develop a plan to share Christ with those individuals.
Second, Paul submitted his plans and goals to Christ. Words and phrases like "perhaps," "wherever I may go," and "I hope to remain with you for some time, if the Lord permits" reveal Paul's sensitivity to the Holy Spirit. Although he had plans and goals that he wanted to accomplish, he was always striving to make sure that he was doing what God wanted him to do.
Are you willing to relocate and change jobs if God calls you to? Would you be willing to take on a new ministry? God longs for willing hearts.
Third, God eventually opens a door of ministry for faithful believers. Admittedly, sometimes it takes many years but God has a way of blessing our meager efforts. Paul wrote "for a wide door for effective service has opened to me, and there are many adversaries." This "open door" in Ephesus brought great evangelistic fruit. However, with the fruit there were many adversaries. This is to be expected. Where there is light there are bugs. When God pours out His blessing, Satan sends adversaries to destroy God's work. Those involved in ministry of any sort should expect opposition. It is important to recognize "our struggle is not against flesh and blood, but against the rulers, against the powers, against the world forces of this darkness, against the spiritual forces of wickedness in the heavenly places" (Ephesians 6:13).
Fourth, Paul valued ministry partners. In this section, he spent considerable ink talking about Timothy and Apollos. In the passage that follows he will mention five more valuable coworkers. Paul recognized how important other ministry leaders were to his ministry and to God's kingdom. God uses teammates (brothers and sisters) to help us to accomplish His purposes for our lives. More importantly, He uses the purposes He works in us to accomplish His kingdom agenda in the world. Have you expressed gratitude to God for all that He has accomplished in your life? Have you said "thank you" to your Christian teammates?
Going requires more of us than giving and that should be acknowledged. It's hard with jobs and children and life to pick up and go to Africa or South America – but let's be honest, the early Christians did much of their ministering right where they were – in the marketplace, mending tents, as they interacted with the people around them. Do you do ministry at work, the grocery store, on your Facebook page? Are you willing to?
We're part of God's work team if we're willing to let Him guide us in the plans He has designed for us. Today, will you commit yourself to fulfilling God's plans for your life? Will you submit yourself to Him in the areas of giving and going?