This week's Open Book Blog Hop asks us to explore failure.
WordPress:
<!– start InLinkz script –>
I subscribe to the meme to the left. It used to hang in the office of a counselor/coworker. I am not a perfectionist in most things, which means that when I set goals, they are not set in stone. I grew into that understanding as I matured in life. The fact is, life is what happens while we're making other plans, so getting too caught up in goals can mean life whizzes right by you and you missed it because your vision was on the far horizon.
I don't make New Year's resolutions or 10-year plans and I don't have a bucket list. I believe I am a lot happier with my life than many more goal-oriented folks that I know.
That said, everyone in the world has set a goal and not achieved it … myself included. I learned the zen I'm espousing here by failing to achieve some goals. I set more attainable goals these days. I'm going to publish the next book in Transformation Project — Objects in View — sometime this year. I know it's attainable because I've published other books and, for the most part, fulfilling this goal relies almost entirely on me.
But, I failed in the goal of publishing Mirklin Wood in fall of 2015. I honestly thought I could do two epic fantasies in a year. That might have been overly ambitious, but I was also delayed by a catastrophic hardware failure that required I rewrite 30,000 words and rebuild all my cover images.  Therein is one of my primary tools for dealing with failure. I admit when I fail. Ignoring a problem won't make it go away. Beating myself up about it won't make it happen faster. And forget about trying to bargain my way out of failure because that is not how my life works. I have to admit that I failed
in order to decide what my next course of action will be. That action will either be to overcome failure to achieve a goal worth keeping or to revise or even give up on a goal when it's not worth it to pursue it.
Sometimes – cough, often – I fail at goals that were not specific or measurable enough. "Eating healthy" is a laudable goal, but how do you determine when you've done that? Switching to whole-grain bread or decaf coffee are measurable and therefore attainable goals. Losing 20 pounds by mid-summer sounds great, but also impossible, until I divide the number of pounds by the number of weeks and realize that some simple changes in my diet and exercise patterns can result in a two pound per week weight loss that adds up to 20 pounds by mid-summer … or not. Maybe it will take until fall because I don't want to say no to things like potato salad for the entire summer.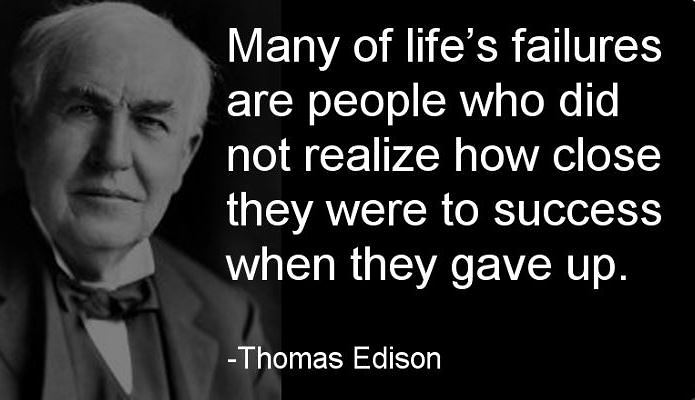 Sometimes goals are too aggressive and require adjustment. Can I really write an epic fantasy in a year? Apparently it takes 18 months … at least when technology conspires against me.  I have a goal this summer to go for a one-mile walk with my Labrador every morning before work. We started on the 11th and we're doing pretty well, but Wednesday night, I fell asleep on the couch and woke up late so went to work instead of for a walk, so I've failed at that goal. Instead of quitting or waiting until next month to restart my goal, I have now adjusted that goal to walking for a mile most mornings.
Sometimes I need an accountability partner to achieve a goal. Our Labrador hasn't quite gotten used to our walks yet, but soon she'll be sticking her cold wet nose in my face if I try to sleep in. My brother became a fiction reader while reading Life As We Knew It. He keeps asking on my progress toward finishing Objects in View, because he really wants to know what comes next. Accountability to another person is a great thing.
I don't make New Year's resolutions because I've never met anyone who has kept one, but that's mainly because when they faltered, they used it as an excuse to quit. There is no rule anywhere that says we can't begin again tomorrow. If I've fulfilled 25% of my goal, that is progress and progress is better than giving up. I've climbed a lot of mountains that way, by the way. Water breaks are not failure; their savoring stations on the way to the summit.
Ultimately, I give myself a lot of grace. Murphy's Law tends to hold court in my life on a regular basis. I have bad days … lazy days … hectic days. Very few days are perfect. At some point in my life, I realized that perfection is an illusion. Goals are great for knowing where you're headed, but sometimes, you just aren't going to get there exactly when scheduled and by the same route as planned. Occasionally, those detours in life turn out to be a scenic route. I really like the scenic route.