Archive for the 'Alaska' Category
Brad couldn't sleep last night (worried about our dog who just had surgery, I think), so he got up really early and checked out some friends on Facebook. He graduated high school in Chappaqua, New York, but he lived all over New England as a kid and still has family there, as well as spending several years in Texas where he also has family.
So he was talking with someone (a friend) who lives back east and telling him how two weeks ago, the temperatures here were 30 below zero, but it's 30 above now and we got over a half-foot of snow last night. He'd decided I was driving his Jeep to work this morning.
The conversation went from there.
Brad – My wife is driving the Jeep to work this morning so I can fix what caused her car not to work last week during the 30 below.
Of course, Facebook is a "public" forum, so a friend of his friend responded.
Friend Once Removed – I'm surprised they let you drive in that.
Friend – Drive in what? Which?

Friend Once Removed – Either. It's dangerous. They should close the roads.

Friend – He lives in Alaska. If they did that, they'd spend all winter trapped at home. And they're used to it.
Brad (responding to "surprised they let you drive in that") – Let us? There's no "let" involved. We drive if we darned well want to and accept the risk.
Friend Once Removed – The police should arrest anyone who doesn't obey the law. You don't have a right to endanger yourselves.

Brad – Fella, we live in Alaska, where freedom is a higher priority than being protected by the government.

Friend Once Removed – You people are what's wrong with this country. You endanger all of us with your callous disregard for safety.
At this point, I asked Brad what he was muttering swear words about and he showed me the exchange.
Me – Yeah, I have conversations like that all the time under my Lela account.
Brad – What do you do about it?
Me – Sometimes I embrace the debate in hopes that someone will learn something from it and sometimes I refuse to pick up the rope. Surprisingly, others have started doing that and it feels good to know that people are thinking about liberty issues.
Brad – What should I do about this?
Me – Can I pretend to be you?
Lela Pretending to be Brad – I'm not sure how my driving a 4×4 Jeep through 6 inches of snow in Alaska endangers you when you live in New Jersey. Can't we both live our lives without trying to control the other?
Friend Once Removed – No, because your "freedom" gives people ideas and those ideas put them in danger.
Me to Brad in the Real World – Leave the rope right there and stop this conversation right now. You can't win this argument and if you continue he'll be calling his Congressman insisting that Alaskans be stopped from driving in "dangerous conditions." Now I'm going to go put on my winter gear over my office clothes and drive that 25-year-old Jeep through the "dangerous conditions" so I can field phone calls from the public who want to know when the roads will be plowed. Fun times!
Which, actually, it was. I LOVE driving that Jeep through snow and the wind just added another flavor – a wild primordial feel that a day of ordinary weather just doesn't give you.
This is Brad. Lela admitted to me last night that she really hasn't posted anything on Houston in the wake of Hurricane Harvey and so she's letting me today. I have to thank our son Kiernan for helping me with hash tags and photos as I am still pretty blogging illiterate.
I used to live in Houston. Although I was raised in the Northeast, my father has been based in Texas since I was in middle school, so I spent a year of junior high there, summers all through high school and then I moved to Houston after high school graduation to work for Dad's electrical company. All together, I lived in Houston about six years before moving to Alaska … my forever HOME.
My dad pulled stakes for Austin some years ago, but two of my sisters and my brother still live in Houston. They are all fine. My sisters live on what amounts to higher ground in Houston, while my brother uses Houston as a base of operations, but doesn't have a permanent residence there currently. His storage unit is on higher ground too.
For such a wild place, Alaska doesn't really have natural disasters that get people really excited. I guess after you've lived through a 9.2 mag earthquake, a mere 7.9 is a yawn. Lela vividly remembers the 1967 Flood here in Fairbanks that devastated the community only weeks before winter usually starts here. While she feels sympathy for Houstonians and was worried about my sisters until they updated their Facebook statuses, she has a hard time weeping for Houston (especially my sisters who aren't flooded) … and I think I get that after all these years here in Alaska, surrounded by practical people who view 40 below zero for weeks on end as a mere obstacle to overcome.
Here in Alaska, a flood that doesn't come into your house is an adventure. Our favorite relaxation place is Chena Hot Springs Resort and there's a spot of low-lying road between the resort and Fairbanks. On several occasions we have driven through two feet of water to get to the other side of a wash-out there. It happened so often that the state Department of Transportation finally just built the road to be flooded periodically and they put up signs that say the road is passable, but before that, Lela and I would regularly dare the risks of a flooded road to get to the other side. One of us would walk out in front, in the COLD water, to determine if the road is still there and then the other one would follow driving the car.
To get to our cabin site off the Steese, we actually have to drive through an unbridged creek. You can't do it with our passenger car (not enough clearance and front-wheel drive), but one reason we keep resurrecting our 24-year-old Jeep is because it can handle the creek. Summer before last, after a long period of rain, it got a little scary as water started coming in the doors and the engine started sputtering when the exhaust went under water, but again … it's an adventure until it starts flowing into your basement.
In the last few years, no-wind-in-the-winter Fairbanks has had a handful of intense wind storms that have brought down trees into power lines and onto people's roofs. It approaches a natural disaster for me when the electricity goes out in the winter because, of course, your needed home-heating device doesn't works without electricity. Lela just bundled up and started the wood stove. The bad news was there were trees caught in the electrical lines that feed our house. The good news was no trees hit our house or vehicles because the safety net of power and communications lines caught them.
See the Alaskan attitude? It's not a disaster until your life is in danger and even then … quit bellyaching about it and find a way to mitigate the harm so you don't die.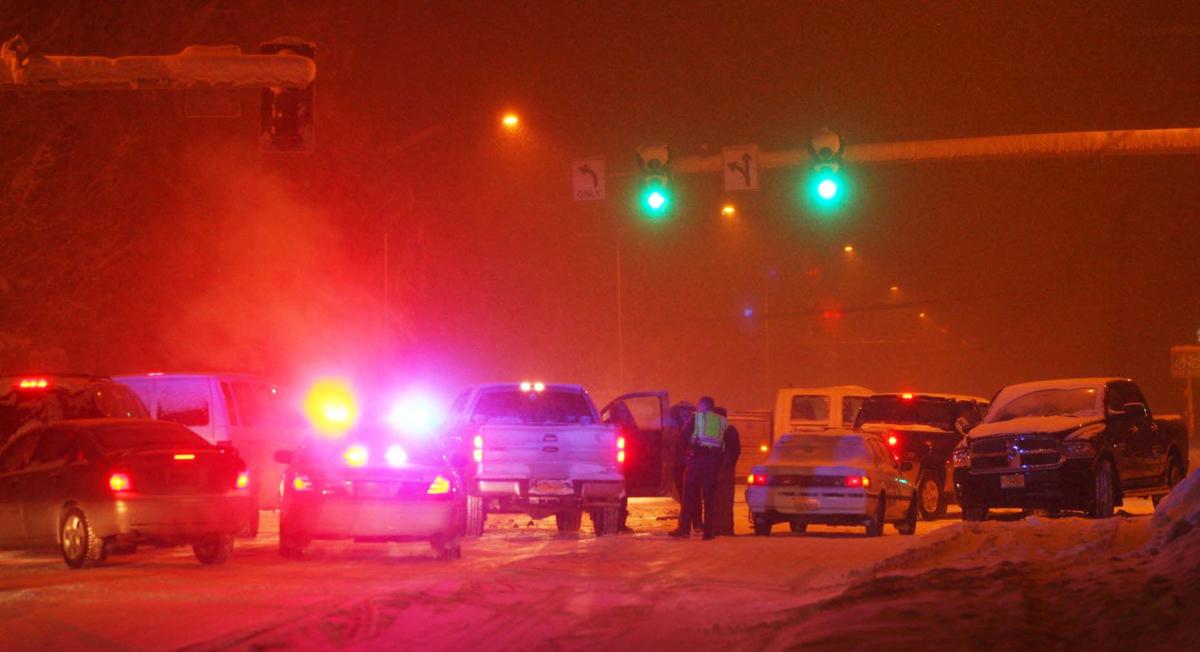 During one of those storms, a neighbor who is a lineman came and tapped on our door and asked if I could go around and volunteer to the neighbors to make sure they didn't electrocute themselves while they cut up their trees. I'm a licensed industrial inside wireman and our lineman neighbor — who had to go to work, of course — knew: a) our neighbors would do it anyway and get themselves killed, and b) I have the skills to assure they did it safely. Within a couple of hours you could hear chainsaws all over the neighborhood. A long time before the electric company could get around to repairing downed power lines, a handful of neighbors who are wood burners, including Lela and me, had taken care of the downed trees. I think we're using the last of the latest round of wind-blown trees right now.
During 911, I was in a remote Alaska village when the planes were grounded. The barge hadn't arrived yet with winter supplies. Lela had just sent me a food box and it had arrived on the last plane, but some of my coworkers had nothing to eat. The villagers, even though they were at the bottom of their pantries until the barge came in, kept them from starving.
When a car goes off the road around here, or is pulled over to the side with its hood open, people stop and ask if you need help. They'll pull you out if they can (and risk a ticket nowadays because it's against the law according to the cops). Lela, who is quite capable of changing her own tires, has had men stop and insist she get into the warm vehicle while they do the heavy lifting, but she's also stopped herself for women in inadequate winter clothing and old men who shouldn't be working so hard. And, yes, so do I. There's even a website, started by a high school student, called "I'm Stuck, Come Pull Me Out" where volunteers will do exactly that if you have smart phone service wherever you're stuck. I'm sure it's driving the professional tow-truck drivers mad, but that's Fairbanks.
So, I'm kind of amused at how the media is shocked — SHOCKED — that volunteers are doing a better job of disaster relief than the government in Houston. I'm used to a culture where volunteers are the backbone of every relief effort. Lela and I give money to the Cooperative Program of the Southern Baptist Convention that partially goes to funding Southern Baptist Disaster Relief. If you've never heard of them before, that's because the men and women who do the hard work don't like to take bows, but they served the majority of the meals during the cleanup at the Twin Towers, they were a backbone agency in the recovery efforts from Katrina, and I even went with them to work on a lineman's crew after Hurricane Sandy. I paid my plane ticket and they fed and housed me for two weeks as I hooked up people's houses to the grid — the utility companies do not restore power when the break is between the pole and the house. SBA Disaster Relief works in coordination with other volunteer organizations (think the Cajun Navy) and some government agencies (although they had to violate some FEMA rules during Katrina to get help where it was needed).
The other day, Lela was hit up for yet another donation to Hurricane Harvey relief and the person soliciting the donation thought she was being uncharitable when she declined. Lela speaks her mind … I think you all know that by now … so she informed this do-gooder that we had given our regular tithe to our church, some of which had gone to a special donation to SBA-DR, then given a special donation on line to SBA-DR and then also donated to a friend who is member of the Cajun Navy. We don't feel guilty for not giving to an organization that we know nothing about that may be using the donations to fund administration rather than actual relief efforts. We believe in the power of volunteers to do what needed doing. The Red Cross, which uses 90% of donations for administrative support, will be fine without our dimes and nickles.
The leaves are turning yellow here in Interior Alaska and that can only mean one thing — winter is coming. I sound so much like Ned Stark, yeah. But it's true. Soon it'll be colder than cold here and we'll be facing what many places in the country would consider to be a natural disaster. We won't complain because this is the life we've chosen to live and cold weather really isn't a natural disaster. It just feels like it might be. So long as we have fire wood in the shed and diesel fuel in the tank, though, it's merely an inconvenience.
Houston … you have a mess to clean up and I'm sure it won't be any fun. But as Lela, who has lived through two events she actually considers to be natural disasters, has taught me … it's all about your attitude. There's nothing funny about your entire town and your house being under water, but … it's also an adventure if you're not in immediate danger of dying. Heck, when she tells the stories about the 67 Flood … she and others who lived through it sure make it sound like it was an adventure. I guess that's why Alaskans don't consider 40 below zero, 12 feet of snow or 7.9 mag earthquakes to be disasters. Their frame of reference – five feet of glacial flood water filling homes and businesses just six weeks before winter is a potentially killing event … and they even consider that to be an adventure rolled up into a natural disaster.
Like it or not, resources drive the train of Alaska's economy and so President Obama's wrecking-ball approach to environmentalism really harmed us and is one reason Alaska is in a recession right now. Yes, low oil prices are part of it, but more than that, our inability to expand oil development and put more oil in the pipeline creates a chronic problem. So, this is potentially good news for Alaska … and, whether you know it or not, the country. Lela
http://www.alaskajournal.com/2017-05-17/state-will-pursue-revised-rules-npr-interior-dept#.WR3XGuvytpg
Alaska Journal of Commerce
Tim Bradner
State officials will push new U.S. Interior Secretary Ryan Zinke for a revamp of Obama administration rules restricting oil and gas development in the National Petroleum Reserve-Alaska, state Natural Resources Commissioner Andy Mack said May 12.
"We will be submitting a specific proposal within the next couple of weeks to Secretary Zinke. This grows out of meetings our governor, Bill Walker, had with the secretary earlier this year in which he seemed receptive," Mack said in an interview.
"We believe we can help BLM (Bureau of Land Management) in developing a new plan that is balanced," between resource development and environmental protection, said Mack, who was officially confirmed to his position May 16.
The NPR-A was created in 1923 as a potential source of oil for the U.S. Navy, but despite exploration over the years it is only recently that there have been commercial oil and gas discoveries.
The U.S. Bureau of Land Management, which manages the 23-million-acre petroleum reserve on the western North Slope, would develop the new plan, but Mack said the state hopes to be heavily involved.
BLM's current management plan, developed under former Interior Secretary Ken Salazar, was implemented in 2013 and placed large parts of the reserve into special conservation areas, effectively putting large areas off-limits to petroleum exploration and development.
The current plan also makes access difficult for transportation infrastructure, such as pipelines or roads for use by communities in the region, state officials have said in the past.
Salazar's final Record of Decision approving BLM's plan placed 11 million acres, about half of the reserve, into special conservation areas. This included a 3.6-million-acre special protected area around Teshekpuk Lake and including coastal wetlands near the Beaufort Sea coast.
State officials were critical of the plan because NPR-A's coastal areas are considered highly prospective for petroleum discoveries. The Barrow Arch, a broad regional geologic formation that hosted the large Prudhoe Bay-area oil discoveries farther east, also extends along the coast of the northeast NPR-A and includes areas Salazar put off limits.
Mack said the restricted areas also impede infrastructure needed to support discoveries on state-owned submerged lands offshore the reserve.
Caelus Energy, a Dallas-based independent, has announced a significant discovery at Smith Bay, offshore the NPR-A and about 100 miles northwest of the nearest industry infrastructure at the Alpine field.
If Caelus is unable to build an onshore pipeline from Smith Bay through coastal areas of the reserve it will be forced to build an offshore pipeline, which creates risks and environmental hazards.
The prospectivity of NPR-A itself for discoveries has now been confirmed by ConocoPhillips and its minority partner, Anadarko Petroleum, who are making discoveries further inland in the reserve.
The companies are now developing one project, Greater Mooses Tooth No. 1, or GMT-1, which is scheduled to start production in late 2018, and have two other prospects, GMT-2 and Willow, a new discovery, in the planning stages.
Any new initiative to unwind restrictions will be highly controversial with national environmental groups, particularly if it eases restrictions in the Teshepuk Lake and coastal wetlands areas of the reserve that are heavily used by migrating waterfowl in the summer.
It would also require a redo of the environmental impact statement for the current NPR-A management plan, which is also likely to spark litigation from conservation groups.
However, what is also different now, Mack said, is that Inupiat communities on the North Slope, now mainly dependent on air and seasonal barge service, are supporting provisions for transportation infrastructure in the NPR-A as a way to bring living costs down.
In other remarks, Mack said in a May 12 briefing that he believes recent new discoveries on the North Slope will continue to prop up North Slope production. The commissioner spoke to Commonwealth North, an Anchorage-based business and public policy group.
"The recent increase in oil production can almost entirely be attributed to the strong performance at CD-5," a new project near the Alpine field developed by ConocoPhillips and Anadarko Petroleum, Mack said. Strong production at Prudhoe Bay and the Kuparuk River field, which supply most North Slope oil production, were also factors.
The state Department of Natural Resources is now forecasting a 4 percent drop in North Slope crude oil production next year to an average of 505,000 barrels per day. The new estimate revises a number published April 14 in an earlier forecast, that reflected a sharp drop to 445,000 barrels of average slope output, a 12 percent decline which alarmed state legislators working on state budgets.
Ed King, a petroleum economist and the Department of Natural Resource liaison with the Legislature, said the agency adjusted figures in the earlier number to account for new production.
"New information has come in since the production estimates were prepared several months ago. When we assembled the forecast certain new projects were not included but those are included in the revision," King said.
The forecast period is for state fiscal year 2018, which begins July 1 and extends to June 30, 2018.
The department is also estimating an increase in Cook Inlet oil production in fiscal year 2018 to an average of 17,400 barrels per day, up from a 14,900 barrels per day average for this year, fiscal year 2017.
King cautioned that North Slope production estimates could still vary, depending on the success of producers in the large Prudhoe Bay and Kuparuk River fields holding production even, as they did in 2016, King said.
The two fields provide the bulk of North Slope production and have historically declined at about 5 percent yearly. However, field operators BP, at Prudhoe Bay, and ConocoPhillips, at Kuparuk River, managed to largely stem the declines last year.
BP held production at less than a 1 percent decline at Prudhoe even after cutting its drill rigs from five to two. King said it's uncertain that performance will be repeated in 2017 with fewer rigs at work.
In the Kuparuk River, field production was roughly even with 2015 with the decline largely offset by production from the new Drill Site 2S. CD-5, a nearby production site, also contributed new production, King said.
No new projects are expected in 2017 that will provide a similar offset to decline. However, new production projects now in construction on the Slope will begin production late 2018 and help stem decline in 2019.
These include ConocoPhillips' new Greater Mooses Tooth No. 1 project in the National Petroleum Reserve-Alaska, with an expected output of 30,000 barrels per day, and Hilcorp Energy's new Moose Pad project in the Milne Point field, with an expected output of 12,000 to 18,000 barrels per day.
The state spring forecast also revised a production estimate for current-year fiscal year 2017 production to an average of 523,700 barrels per day, a second straight year of increases and far greater than the 495,000 barrels per day that was projected this past December.
This includes greater output from the Prudhoe Bay than state officials expected earlier as well as more production from CD-5.
While the near-term outlook is for level production in Alaska, or a minor decline, the medium-term, to 2022, is more uncertain because low oil prices have delayed some projects that were expected to come on line in that period, according to Paul Decker, chief of resource evaluation group in the state Division of Oil and Gas.
Those include Caelus Energy's Nuna project, which could produce 25,000 barrels per day, and Mustang, a small project planned by Brooks Range Petroleum, which will be able to produce 12,000 barrels per day to 15,000 barrels per day. Both are on hold and are unlikely to be put into production before 2022.
However, prospects are brighter for the long-term beyond 2022, Decker said, although this may depend on some improvement in oil prices. Armstrong Oil and Gas and Repsol are engaged with regulators on approvals of the Pikka project, which will be capable of producing 120,000 barrels per day, and ConocoPhillips has its GMT-2 in the NPR-A, which could produce 25,000 to 30,000 barrels per day, the company has said.
King said both of those projects are at least five or six years out.
Further out in the queue is Willow, a new ConocoPhillips discovery in NPR-A, that could be capable of 100,000 barrels per day, and Caelus Energy's discovery at Smith Bay, in state-owned offshore waters north of the NPR-A, the company believes might produce 200,000 barrels per day.
Tim Bradner is co-publisher of Alaska Legislative Digest and a contributor to the Journal of Commerce. He can be reached at timbradner@gmail.com.
I had a few requests to update our progress on tapping birch trees. The sap finally started running last week and Brad put in all the taps and 20 collection buckets on Monday. He had three trees that didn't produce anything – two of those are now giving trickles. That's evidence that they are in colder or drier soils than the others. They just may be late producers. He also has three trees that are producing 3-4 gallons of sap a day. Apparently, this isn't miraculous, but it is rare.  We're taken between 16-19 gallons every day.
Birch sap looks like water and tastes like fruit-infused water.  There is a very light floral taste sort of like green birch leaves smell. Members of the cooperative say they make coffee and drink the sap. They really tout the health benefits, so Brad has been doing it too. On Tuesday, he gave me an 8-ounce glass of it.  He seemed curiously animated that night, full of overblown ideas and optimism. I had a couple of creative ideas for my latest novel, so I wanted to write, but he kept popping in to tell me this latest "great idea". I sort of wanted to put duct tape over his mouth. I also needed to pee twice as often and in twice the volume of normal. I had gas too.
The next morning, my toothpaste tasted like birch. So did my toast, my coffee, my lunch, and my dinner … and my lips. I drank two water bottles in the afternoon and the tap water tasted like birch. Still had the eliminatory effects and even my sweat tasted like birch. Brad, who is drinking a great deal more than I am (alcoholics, even in recovery, don't have a normal on-off switch like other people) reported the same thing. That lasted about 40 hours and was becoming distressing. On Thursday, my toothpaste, coffee and drinking water tasted like birch, but food (well, the curry leftover from the night before that had tasted like birch) was starting to taste normal again. I didn't drink any birch water on Wednesday and I drank a coffee cup each (about 4 ounces) on Thursday, Friday and Saturday. Everything now tastes normal again. This is similar to what I've heard from people who have used coconut water for cleansing, so I think it was probably fine. I might try an 8 ounce glass today.
I'm hungrier than normal and I seem to have more energy (but that could just be the effects of spring). Last night, I sweated a ton even though I'd showered, so I had to shower this morning, which is unusual for me. So, I do think it's probably doing somethng. It's really high in Vitamin C, the research says.
And we've now given 45 gallons of birch sap to the cooperative and Brad has made some great contacts for the future.
I'll let you know how it's going next week as birch sap harvest goes for 2-3 weeks.
Every culture has its creepy folktales and the Alaska Natives are no different. I grew up hearing some of these tales.
Qalupalik
The Qalupalik is a creature of Inuit legend described as being human-like and having green skin with long hair and very long fingernails. She lives in the sea, hums to entice children to come closer to the water and wears an amautik — a parka worn by Inuit women to hold a child against the back in a built-in baby pouch just below the hood.
Parents and elders tell children that if they are disobedient or wander too close to the sea shore, the Qalupalik will come onshore, put them in her amautik and take them back to the sea with her to raise them as her own children, never to see their family again. So, if you are ever standing on the shore of the Arctic Ocean and hear a woman humming — run!
The Nunavut Animation Lab created a short animated film that tells the Qalupalik legend in great detail with unique illustrations. You can view it here.
The Alaska Bushman, or Tornit
Stories of the Alaska Bushmen, or tornits, have been told since the first humans crossed the Bering Land Bridge. In the beginning, the story goes, the Inupait and the tornits lived peacefully in villages near each other and shared common hunting grounds.
The Inupiat people often built and used kayaks for hunting. While the tornits were unable to master the building of kayaks, they were very aware of the advantages of having and using one. One story goes that a young tornit borrowed a young Inupiat's kayak without permission and damaged the bottom of it. The young Inupiat became very angry and stabbed the tornit in the nape of the neck while he was sleeping, killing him. The rest of the tornits feared that they too, would be killed by the Inupiat and fled the country, rarely to be seen again.
Since that time, many stories have come out of the bush of hunters disappearing, later found dead and mangled or never seen again. Apparently, hunters and the Tornits no longer peacefully shared common hunting grounds.
We were once fishing with a Inupiat family, pulling white fish from a northwestern Alaska river when a nasty skunky smell floated toward us. It suddenly dawned on me that most of the other fishing families had quietly and quickly disappeared. Of course we were all armed in case of bear, but our host unsnapped his holster and quietly told us to reel in our gear and pack up.
The smell didn't say "bear" to me, but one doesn't argue in these circumstances, so we obeyed. That night was the first night I heard the tale of Tornit.
The third creature to inhabit Alaskan nightmares was the bloodthirsty Adlet, which bears some resemblance to the better-known werewolf. From the Inuit legend, the Adlet are a race of people said to have the lower body of dogs and the upper body of humans. Typically, they're believed to be the offspring of an Inuit woman and a dog, brought about through an unnatural mating.
The woman gave birth to 10 children, half of whom were dogs and the other half Adlet. The family was sent to a remote island because they were so voracious, and their grandfather would hunt for them and provide them with meat. Every day, the dog-husband was supposed to swim from the island to the mainland, where the grandfather was supposed to fill a pair of boots wrapped around the dog's neck with meat. Eventually, the grandfather filled the boots with rocks, drowning the husband.
Fearing for her children's lives, the mother sent them inland, where they spawned more Adlet. The Adlet are typically portrayed as aggressive savages who will attack men when they cross paths.
Although the Adlet legend is based in far north mythology — a version of the story also appears in Greenland, where the Adlet are instead dubbed Erqigdlit — a few researchers have linked it to the European tales of the werewolf. The Greenland Inuit are, after all, mixed with Viking blood.
Tizheruk
In mythology, the Tizheruk are large, snake-like sea creatures that are believed to roam Alaska's waters. They are described as having a head 7 feet long with a tail ending in a flipper, for a total of 12 to 15 feet long. Tizheruk were said to snatch people from docks and piers.
The Tizheruk have some similarities to the Haietlik, or "Lightning Snakes," occasionally associated with the Thunderbird of Southeast Alaska and Pacific Northwest native cultures. Once the Thunderbird spotted a killer whale, it would launch Haietlik as living weapons by throwing them from the skies like lightning.
The Keelut is described as an evil earth spirit that takes the form of a black, hairless dog with only hair on its feet. It's much like the Black Dogs of Great Britain, following travelers at night, attacking and then killing them. If a trail of dog tracks is found that suddenly disappear, it is believed that the Keelut is nearby.
Now, Alaska is filled with all kinds of canines: wolves, foxes, coyotes, sled dogs, and your typical other domestic dogs. With all the canine activity, I'm not sure how you could confirm big, bad Keelut was tracking you, unless he came up and bit you on the rump with a wicked laugh.I'm thinking there was some real element in here because being hairless is not exactly a smart attribute in Alaska. I would guess there was a dog born this way and when it disappeared, someone made up a story to explain the disappearance. Of course, it died of exposure, but nobody wants to believe that of their favorite puppy, so …. And legends always experience story creep.
Like Craig Medred I lived through the TAPS construction, but unlike him, I am on board with building the gas line because of the long-term economic benefits to the state and its residents. Medred was brand-new to Alaska at the start of TAPS, which means he doesn't remember what it was like to live in the poorest state in the union. My parents lived through that and, though the TAPS construction was hard to live through, they were glad for the economic benefits it brought to the state. It meant my brother could come home for the Outside because there were jobs here now.
I'm looking at that for my kids now. They can't stay if there are no jobs. This is a wonderful place to live, but it costs to live here and you have to be able to make a living. We need an economy. Oil is tied up in government regulation and oil companies sitting on leases they refuse to produce (partially because of government regulation). We had the good sense to create a law that says if the gasline is built, the leasees must produce the gas. Alaska needs to diversify our economy, but that is difficult for individuals to do when you don't own your subsurface mineral rights. Gas could be a tool to making that happen because it's availability instate will lower electrical generation and space heating costs. We've seen what low-cost natural gas can do to a community in Alaska. Anchorage has greatly benefited from a sweetheart deal for Cook Inlet gas.
We shouldn't take the potential social effects lightly. One of the downsides to waiting 40 years to build the second pipeline is that the people who lived through the first construction and learned the lessons from it are retiring out of state or dying. The longer we wait, the more likely we are to be unable to deal with the social effects simply because there's no wisdom of experience left. The social costs are less when there are wise veterans left to guide you through it.
The final factor is that it is likely Alaska will never be in a fiscal position to build the gasline if we don't do it now. Once they start taxing Alaskan incomes, we will see a loss of population and businesses. If oil remains low priced, the State's economic power will diminish. We're headed back toward being the poorest state in the union if we don't invest in our future while we can.
Thirty-six years ago, the late Joe McGinnis authored a best-selling book about Alaska titled "Going to Extremes." It went to extremes. Widely popular outside the 49th state, it was not …
Source: New boom just like old boom?