This is Brad. Lela admitted to me last night that she really hasn't posted anything on Houston in the wake of Hurricane Harvey and so she's letting me today. I have to thank our son Kiernan for helping me with hash tags and photos as I am still pretty blogging illiterate.
I used to live in Houston. Although I was raised in the Northeast, my father has been based in Texas since I was in middle school, so I spent a year of junior high there, summers all through high school and then I moved to Houston after high school graduation to work for Dad's electrical company. All together, I lived in Houston about six years before moving to Alaska … my forever HOME.
My dad pulled stakes for Austin some years ago, but two of my sisters and my brother still live in Houston. They are all fine. My sisters live on what amounts to higher ground in Houston, while my brother uses Houston as a base of operations, but doesn't have a permanent residence there currently. His storage unit is on higher ground too.
For such a wild place, Alaska doesn't really have natural disasters that get people really excited. I guess after you've lived through a 9.2 mag earthquake, a mere 7.9 is a yawn. Lela vividly remembers the 1967 Flood here in Fairbanks that devastated the community only weeks before winter usually starts here. While she feels sympathy for Houstonians and was worried about my sisters until they updated their Facebook statuses, she has a hard time weeping for Houston (especially my sisters who aren't flooded) … and I think I get that after all these years here in Alaska, surrounded by practical people who view 40 below zero for weeks on end as a mere obstacle to overcome.
Here in Alaska, a flood that doesn't come into your house is an adventure. Our favorite relaxation place is Chena Hot Springs Resort and there's a spot of low-lying road between the resort and Fairbanks. On several occasions we have driven through two feet of water to get to the other side of a wash-out there. It happened so often that the state Department of Transportation finally just built the road to be flooded periodically and they put up signs that say the road is passable, but before that, Lela and I would regularly dare the risks of a flooded road to get to the other side. One of us would walk out in front, in the COLD water, to determine if the road is still there and then the other one would follow driving the car.
To get to our cabin site off the Steese, we actually have to drive through an unbridged creek. You can't do it with our passenger car (not enough clearance and front-wheel drive), but one reason we keep resurrecting our 24-year-old Jeep is because it can handle the creek. Summer before last, after a long period of rain, it got a little scary as water started coming in the doors and the engine started sputtering when the exhaust went under water, but again … it's an adventure until it starts flowing into your basement.
In the last few years, no-wind-in-the-winter Fairbanks has had a handful of intense wind storms that have brought down trees into power lines and onto people's roofs. It approaches a natural disaster for me when the electricity goes out in the winter because, of course, your needed home-heating device doesn't works without electricity. Lela just bundled up and started the wood stove. The bad news was there were trees caught in the electrical lines that feed our house. The good news was no trees hit our house or vehicles because the safety net of power and communications lines caught them.
See the Alaskan attitude? It's not a disaster until your life is in danger and even then … quit bellyaching about it and find a way to mitigate the harm so you don't die.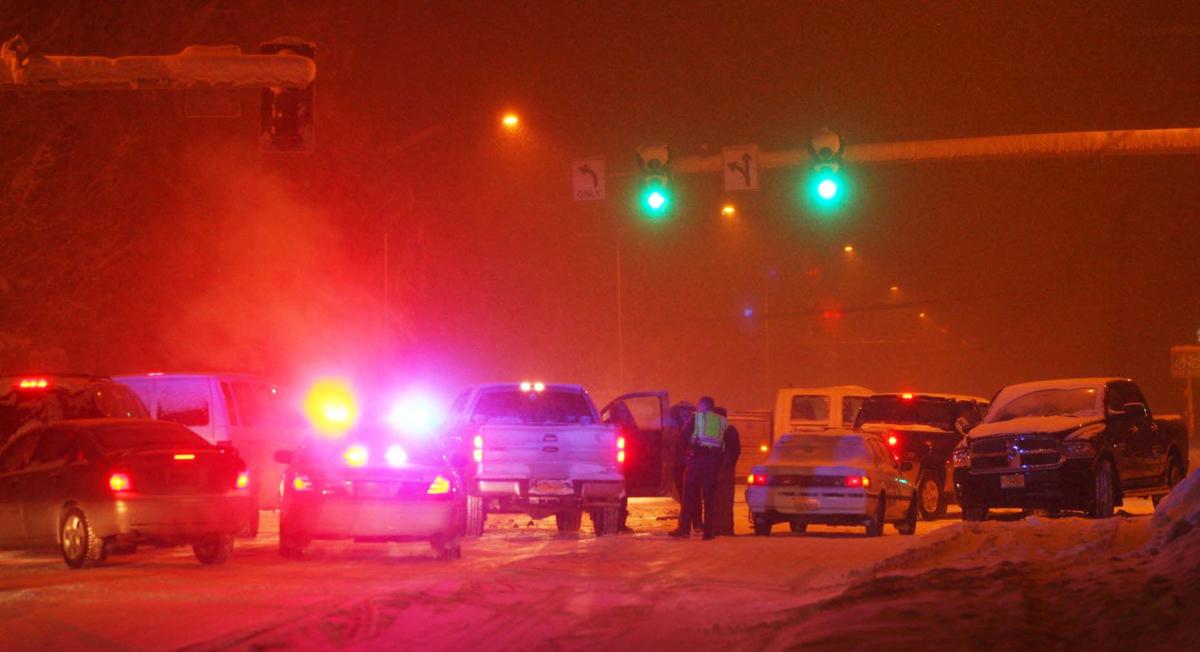 During one of those storms, a neighbor who is a lineman came and tapped on our door and asked if I could go around and volunteer to the neighbors to make sure they didn't electrocute themselves while they cut up their trees. I'm a licensed industrial inside wireman and our lineman neighbor — who had to go to work, of course — knew: a) our neighbors would do it anyway and get themselves killed, and b) I have the skills to assure they did it safely. Within a couple of hours you could hear chainsaws all over the neighborhood. A long time before the electric company could get around to repairing downed power lines, a handful of neighbors who are wood burners, including Lela and me, had taken care of the downed trees. I think we're using the last of the latest round of wind-blown trees right now.
During 911, I was in a remote Alaska village when the planes were grounded. The barge hadn't arrived yet with winter supplies. Lela had just sent me a food box and it had arrived on the last plane, but some of my coworkers had nothing to eat. The villagers, even though they were at the bottom of their pantries until the barge came in, kept them from starving.
When a car goes off the road around here, or is pulled over to the side with its hood open, people stop and ask if you need help. They'll pull you out if they can (and risk a ticket nowadays because it's against the law according to the cops). Lela, who is quite capable of changing her own tires, has had men stop and insist she get into the warm vehicle while they do the heavy lifting, but she's also stopped herself for women in inadequate winter clothing and old men who shouldn't be working so hard. And, yes, so do I. There's even a website, started by a high school student, called "I'm Stuck, Come Pull Me Out" where volunteers will do exactly that if you have smart phone service wherever you're stuck. I'm sure it's driving the professional tow-truck drivers mad, but that's Fairbanks.
So, I'm kind of amused at how the media is shocked — SHOCKED — that volunteers are doing a better job of disaster relief than the government in Houston. I'm used to a culture where volunteers are the backbone of every relief effort. Lela and I give money to the Cooperative Program of the Southern Baptist Convention that partially goes to funding Southern Baptist Disaster Relief. If you've never heard of them before, that's because the men and women who do the hard work don't like to take bows, but they served the majority of the meals during the cleanup at the Twin Towers, they were a backbone agency in the recovery efforts from Katrina, and I even went with them to work on a lineman's crew after Hurricane Sandy. I paid my plane ticket and they fed and housed me for two weeks as I hooked up people's houses to the grid — the utility companies do not restore power when the break is between the pole and the house. SBA Disaster Relief works in coordination with other volunteer organizations (think the Cajun Navy) and some government agencies (although they had to violate some FEMA rules during Katrina to get help where it was needed).
The other day, Lela was hit up for yet another donation to Hurricane Harvey relief and the person soliciting the donation thought she was being uncharitable when she declined. Lela speaks her mind … I think you all know that by now … so she informed this do-gooder that we had given our regular tithe to our church, some of which had gone to a special donation to SBA-DR, then given a special donation on line to SBA-DR and then also donated to a friend who is member of the Cajun Navy. We don't feel guilty for not giving to an organization that we know nothing about that may be using the donations to fund administration rather than actual relief efforts. We believe in the power of volunteers to do what needed doing. The Red Cross, which uses 90% of donations for administrative support, will be fine without our dimes and nickles.
The leaves are turning yellow here in Interior Alaska and that can only mean one thing — winter is coming. I sound so much like Ned Stark, yeah. But it's true. Soon it'll be colder than cold here and we'll be facing what many places in the country would consider to be a natural disaster. We won't complain because this is the life we've chosen to live and cold weather really isn't a natural disaster. It just feels like it might be. So long as we have fire wood in the shed and diesel fuel in the tank, though, it's merely an inconvenience.
Houston … you have a mess to clean up and I'm sure it won't be any fun. But as Lela, who has lived through two events she actually considers to be natural disasters, has taught me … it's all about your attitude. There's nothing funny about your entire town and your house being under water, but … it's also an adventure if you're not in immediate danger of dying. Heck, when she tells the stories about the 67 Flood … she and others who lived through it sure make it sound like it was an adventure. I guess that's why Alaskans don't consider 40 below zero, 12 feet of snow or 7.9 mag earthquakes to be disasters. Their frame of reference – five feet of glacial flood water filling homes and businesses just six weeks before winter is a potentially killing event … and they even consider that to be an adventure rolled up into a natural disaster.