https://www.theatlantic.com/education/archive/2017/08/the-real-legacy-of-crazy-horse/534924/
It's not our fault," Jacob Rosales said. I had asked the recent high-school graduate what he wants people to know about life on the reservation in Pine Ridge, South Dakota. "There's a liquor store right across from the border," he continued after a pause, pointing off into the distance. "Right over there."
Okay, so this Indian is going to say what nobody else says. It's true that you cannot, at 17 years of age, control the circumstances surrounding your life. To a certain extent, it's true at any age. Life happens while you're making other plans and you're going to get creamed by it if you turn your back on it.
But the choices you make are 100% your fault.
The Pine Ridge Indian Reservation is a striking 3,469-square-mile expanse of sprawling grasslands and craggy badlands that sits in the southwest corner of South Dakota, touching Nebraska's northern edge. Traversing the reservation by car, along its rugged matrix of two-lane highways and unmarked roads, reveals just how vast it is.
It is, actually, beautiful. I'm not Lakota Sioux, but the culture on the Pine Ridge Reservation is not all that different from on my tribe's rez. The decaying trailer homes are familiar as are the men in braids, jeans, and Indian Pride hats waving at each other across the street. My rez is a bit richer than Pine Ridge because we have a casino and some Wyandot are married to Cherokee and Cherokee have oil wealth. The two reservations are right next door to one another. It is completely true that the 20,000-member Oglala Lakota Nation is one of the poorest, and most underdeveloped, places in the country.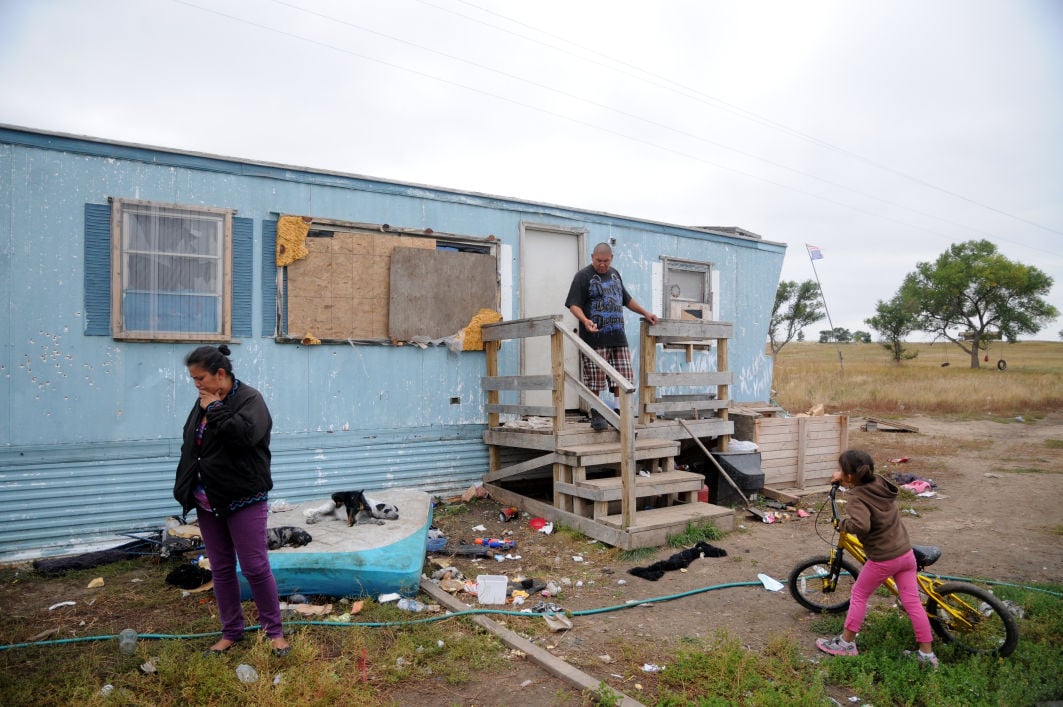 Unemployment and gang violence are rampant. The life expectancy for men is just 48. A youth-suicide epidemic has plagued the reservation in recent years, with a cluster of nearly 200 teens killing or attempting to kill themselves in the span of a few months starting in late 2014. And even though Pine Ridge remains a "dry" reservation, alcoholism is widespread. Until recently, residents could easily drive just a few miles south into Whiteclay, Nebraska, to buy booze. Mary Frances Berry, the former chairwoman of the U.S. Commission on Civil Rights, once remarked, "Whiteclay can be said to exist only to sell beer to the Oglala Lakota."
Of course, nobody forced anyone to drive to the liquor store. It is 100% your fault if you find yourself in the parking lot. It's not your fault that one-third of Pine Ridge youth drop out of school, but it is your fault if you drop out of school. It's not Rosales' fault that Pine Ridge residents participate in the labor force at a lower rate than any other racial group, but it is the fault of many on the reservation who refuse to get up off their rusty dusties and look for work. It's not the fault of the youth of Pine Ridge that Indian men are incarcerated at four times the rate of their white peers. It is only the fault of the individual Indians who decide to commit crimes and a criminal justice system that may or may not treat them with less deference than it does white folks.
Those realities help explain why, as Rosales explained, "it's kind of unheard of for Native kids to go far and be successful."
Students like Rosales see education as the key to reclaiming Native identity and culture. He's spending the summer at the National Institutes of Health in Washington D.C. before heading to college at Yale University. He's an incredibly bright young man, having been accepted at seven Ivy League schools. A graduate of the Red Cloud Indian School (a private school on Pine Ridge Reservation) he's the best the rez has to offer and they should be extremely proud of him. He plans to go to medical school and then to return to the reservation as a primary-care physician. I hope he manages it, though working as a BIA doctor with huge medical school debt might be a problem.
But, hey, he can say that "isn't my fault" and maybe get someone to pay it for him. At some point, Indians have to wake up and smell the coffee. Yes, there have been injustices in the past and, yes, the paternalistic government system under which reservations exist prevents them from growing an economy, which makes employment difficult to get, which leads to cultural problems that must be addressed. But Indians have to stop blaming white society for that because in blaming the whites, we give ourselves a really good excuse to embrace the hopelessness and helplessness that are the real drivers of reservation poverty.  
If it's not my fault, it's also not my responsibility to fix it.
It's great that a school like Red Cloud, a K-12 Jesuit private school, exists on Pine Ridge. Many of the staff are alumni of the school and it focuses on Lakota culture. I don't object to that, except that the new wave of activism seems poised to destroy any hopes of growing an economy which would make living on the reservation viable. Activism against the Dakota Access Pipeline, for example, was just plain dumb. It wasn't on reservation land and five other pipelines are in the area, so the environmental argument was null and void. Reservations officials had ample opportunity to have their concerns addressed in nearly 200 public meetings in the five years prior to construction starting. They didn't go to any of them. I've blogged on this before.
"We are part of the Seventh Generation … prophesied to be the generation that creates those individuals that will spearhead the economic, spiritual, and social renewal," Rosales said. The tall, slim 19-year-old sported a sharp haircut, Nike skate shoes, khaki-colored jeans, and a thick, crew-neck sweater when we spoke. Rosales was referring to a prophecy made by the Oglala Sioux leader Crazy Horse, who shortly before his death in the late 1800s predicted that a cultural renaissance was afoot. "We are going to be that group of people that makes that prophecy come true," Rosales said. "Red Cloud is helping us to do that."
I hope Rosales is right that this is a generation of renewal for Native Americans, but I think the major stumbling block for him and all of his fellow students is that "it's not our fault" mentality. In order to fix anything, you have to start with the assumption that you are responsible for your own mess. No, you can't fix everything and there are a lot of things you'll encounter in life that are indeed someone else's fault … the fault of the person who chose to drink or not work or not finish school. Rosales is making good choices. Those choices are his. When we acknowledge ownership of good choices, we accept as a corollary that we also own bad choices.
The Atlantic article spends an inordinate amount of time talking about how bad it is when Native youth leave the reservation. We see that here in Alaska too. Kids who grew up in a village of 200 come to Fairbanks to attend the University of Alaska, get overwhelmed and quit mid-semester to go back home. That's partly because they're homesick, but white kids get homesick too. Now time for another of my politically incorrect statements. It's also evidence of a Native cultural attribute — when the going gets tough, our Native youth tend to go home. While there are certainly some Natives who grasp that you have to set a goal and stick with it if you hope to achieve it, many Natives think there's something wrong with a long-term focus. They want to go hunt caribou (or deer on Pine Ridge). They want to drink beer and smoke pot and just sit around watching the sun go down. They don't like schedules and deadlines. And, so, college quickly becomes something too hard to do, so they go home.
The article also points out the intense pressure these kids are under to come back to enrich their community … even though there are no jobs on the rez and the culture they somehow managed to avoid long enough to get a degree is rampant on the rez … alcoholism is a spectator sport that allows participants to drag you into the action. I get why reservations want their young people to return and improve life on the rez, but the elders have got to stop fighting against the outside world and trying to preserve the culture as if it is sacred. Things have to change if things are going to get better, but often the elders fail to understand that. It's the same on Pine Ridge, the Wyandot Nation or Tanana Village in Alaska. 
For example, sitting across from me at a table in the principal's office at Red Cloud, Mills recalled a former student who had just finished his first semester at a small, liberal-arts college in Pennsylvania. After returning to campus from Pine Ridge following his first winter break, the student told Mills that he wasn't fitting in at college, that he wanted to come home. "I was trying to get him support … to try and get him to just wait," she said. "I told him: 'This is part of the process. You're homesick. This is gonna happen every time you get back to school. You just gotta get out, get involved, do things.' Blah, blah, blah." Mills even connected the student with someone on campus who took him out to dinner. "Come to find out, his mom ended up buying a plane ticket home for him that weekend," she said, "so he withdrew."
Whose choice was that? I don't think you can blame anyone else but the student.
Thunder Valley Community Development Corporation, a local nonprofit, strives to fill in the gaps for non-college-bound young people and to empower Lakota families with a grassroots approach. Working in seven core themes, from language revival to food sovereignty, Thunder Valley steps in where, and when, schools fall short. Its slogan: "Native youth on the move."
One of Thunder Valley's programs focuses on workforce development by engaging young adults ages 18 through 26, many of whom dropped out of high school, in construction. They're in charge of building a housing development with energy-efficient townhomes and rentals that could eventually serve as many as 900 people. But the 10-month program involves much more than a vocational-training course: Built into the model is an emphasis on social-emotional health and cultural revitalization, with activities such as trauma-sensitive yoga and equine therapy complementing the workforce-development projects.
"We really try to arm them with not just construction skills, but [also] coping skills," Andrew Iron Shell, Thunder Valley's community-engagement coordinator, told me as he showed me around the construction site in the town of Porcupine one blustery morning. "Yeah, it's nice we're going to have a physical structure, but the process is way more powerful … That just gives people something to hang on to. There are not a lot of success stories that people here see every day."
The workforce-development program has swelled in popularity over the years: For this class of participants, according to Iron Shell, it received more than 100 applications for its 15 spots. Perhaps that is in part because it's a paying gig—participants get paid $6.25 an hour plus bonuses. But the demand can also be explained by one of the program's core goals: to not only to give students job training, but also to give them the confidence and financial savvy to become homeowners themselves.
"They come in with a deer-in-the-headlights look because a lot of them—maybe it's their first job or they grew up not seeing people get up and go to work—don't really understand the work culture," Iron Shell said, pointing out his favorite highlights as we toured the lot—the chicken coop, the greenhouse, the bright mural of two Lakota children surrounded by dragonflies. "My sales pitch to the community is that the young men and the young women building these houses could technically buy one of these houses."
The article writer talks about a man named David Espinoza. Espinoza is a Lakota Indian who was born and raised on the Rosebud Reservation, which sits just east of Pine Ridge, and who co-founded a group called Boys With Braids that promotes cultural pride in Native youth.
"This cultural shame, it was a tool designed to dehumanize us," he told me, "to basically just destroy our idealism, the foundation of who we are as people." He spoke of the "intergenerational trauma" that has permeated reservations over the centuries—of his mother who abandoned him when he was 15, of his time spent in federal prison, of all the Lakota people who end up lost or in trouble because they don't know how to deal with the stress that's ingrained in them. "We're operating out of pain," he said. It's not our fault.
What happened in the past is not your fault. How you react to that history is. My mother's family chose to get up off the ground and assimilate while still retaining some aspects of their cultural roots. I am a tribal member who has never lived on a reservation, though I've visited. What appears to separate me and my non-rez cousins from our rez cousins is that we don't blame others for our decisions. We take ownership of our good choices and our bad choices. Yeah, things in history sucked. Get over it. Move on. Make better choices. Choose not to be like your parents and grandparents or your siblings and aunts and uncles. What they do is not your fault. What you do, very much is.