This week's blog hop topic is – "What Is Your Bucket List?"  What kinds of things do you want to do before you kick the bucket? Dream big. Life is full of exciting things to do.

An InLinkz Link-up

get the InLinkz code

So the last time the blog hop visited this topic, this is what I had to say about it. https://aurorawatcherak.wordpress.com/2015/08/13/theres-a-hole-in-my-bucket/
I haven't really changed my mind about living my ordinary life rather than trying to fill a bucket list. We're still debt-adverse, so we have to save for trips. I still have a job and Brad still has his business and  we still live in a state most people come to to scratch it off their bucket list.
We weren't able to drive the Tanana Road last year because a forest fire delayed construction the year before, but we're talking about doing it this summer.
I still itch to drive the "blue highways" of the United States, especially along the northern states. My daughter Bri, the gypsy bluegrass musician, might be willing to act as my guide in this since she's been on a lot of them.
We all know Route 66 because of Grapes of Wrath and a television show, bu there are others out there. One is Route 20, which I've been studying for Transformation Project (how exactly do you get across the United States when the major transportation hub cities have been nuked and the military has shut down the interstates for their own use?). My fictional town of Emmaus is just off I70, but this route paralleling I90 is really pretty cool.
I would start at Boston on the 4th of July and watch the fireworks over the Harbor. As you move west from there, parts of the Route 20 follows the path of the old Boston Post Road, which used to carry mail between Boston and New York City in the 17th and 18th centuries. It was also the route Henry Knox dragged the Ft. Ticondaroga cannons to Boston. Through its easternmost section, Route 20 passes through a number of "frozen in time" small towns whose Main Streets haven't changed much since the 1950s.  We might visit Old Sturbridge Village again since we'll be so close. The typography of Western Massachusetts promises windy routes that would invite us to slow down and take our time.
I'm looking forward to the photographic opportunities of New York State's Finger Lakes Region. It's named after 11 lakes, formed by glaciers thousands of years ago, which provide the setting for all sorts of activities and scenic views.
We would have to stop in the Sandusky area because this is an important region for my mother's tribe and also because I have an alternative historical fiction short story that I want to develop into a full length novel and so wandering around in the area would be a good way to get a feel for it.
I love historic architecture and small town ambiance, so would definitely slow down for Indiana Dunes National Lakeshore. I might even take part in a geocaching expedition. Then we would enter a belt of heavily-industrialized cities like Gary, Indiana, and Chigago's South Side. I'm equally certain there'd be a different sort, but equally compelling opportunity for photographs.
As we pass into Iowa and Nebraska, we would find the flat, wide-open spaces that are a necessary element of a classic American road trip.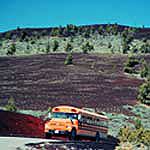 I've been to Wyoming before, but I know certainly that I didn't truly see it completely before, so I would love to go there again. Our trips have never allowed a visit to Yellowstone National Park. We'd probably have to break from Route 20 for a slight detour to really take in Montana — birthplace of my mother and my daughter's avowed "favorite state". Then we'd head on to Boise, the otherworldly landscapes of Craters of the Moon National Monument and the beautiful Lost River Range.
I'll be wishing there was more time to explore, I'm sure. Although I've been to Idaho before, it has always been on the big highways with little time to explore off the beaten track. I want to change that.
Route 20 crosses the Cascades and the Oregon High Desert before moving though the remote Central Coast Range and the Willamette Valley.
We would definitely plan to camp most of the trip. Being used to the rough backcountry of Alaska, we'd keep our load light with a regular passenger car and a tent. My daughter has apparently become quite acqainted with off-the-beaten track camping locations. This would allow us more time to really take in the scenary rather than just feeding the motel chain beast.
We'd pack a lot of picnics, but if we can find any classic diners, I'm there … I swear. Daughter of a diner waitress, here! Gotta brake for pie!
#bloghop, #openbook, #roadtrip, #usroute20