As a middle-aged American woman, I kind of yawned at the Day Without Women marches this week. I just couldn't get excited about it. Why?
Well, for one thing, I don't think they know what they're protesting and, for another, I think they should seek counseling to work out their generalized anger issues.
What are they fighting for? It appears to me that they haven't got a clue what they want out of life, let along what they hope to accomplish by marching in the streets. Maybe they are unaware of the history of women or the current state of women in America.
Women in America have the exact same rights and responsibilities as American men. They can go to the same schools, have access to the same education and jobs as men. They can choose to enter the American military, just as a man can, and even serve in combat units and as infantry. Because of affirmative action, female applicants for top colleges and jobs are often preferred over men– even in the cases where the male candidate is more qualified with actual skills or education. Women receive special incentives to enter fields like science and math where some claim there is a gender gap. Women can choose to get married or stay single without too much societal backlash. A 40-year-old single woman is seen as strong and independent while a 40-year-old single man is viewed as flawed.
Once a woman gets married or has children the differences in choices and opportunities grow. Women are free to choose between having a career, or staying home and caring for house and family. Many women choose to do both and enjoy the respect, and assistance of both family and co-workers.
Men, however, do not enjoy respect if they choose to leave the workforce to be a full-time dad. That's viewed as lazy and they are accused of living off their wives. If a man does take time off to care for children, he has a much harder time reentering the workforce than women who make the same choice. Men who take sick days to care for ill children might have their jobs threatened, while a woman who takes a sick day to care for her child might have some coworkers complain behind her back, but her job is secure.
Each person is different. Every person has strengths and weakness. Some come from experience, others from education and still others from genetic differences inherent in the different sexes and races. Thanks to evolution and survival instincts, men and women excel in different areas. Modern feminists might not like it, but it's biological fact that we're different.
Women important in our society because we bring forth the next generation and, traditionally, the hand that rocks the cradle rules the future world.  It's true that in past generations women were treated as property. There was a point where women could not own property, could not vote, and had no say in how their communities or even their homes were run.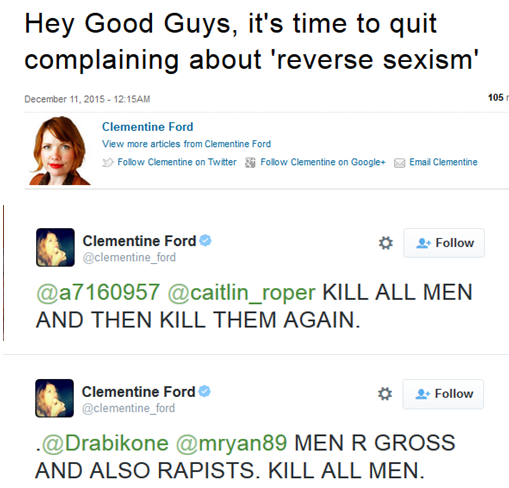 But, it's not like that anymore.
For the past several generations our great-grandmothers, grandmothers, and mothers fought to be treated equally with men. To have the same legal and societal rights and responsibilities as men. They won the right own property, to work, to take advantage of the same educational and employment opportunities as men. Women run homes, businesses, schools, and countries. Women hold top positions in governments and plan the education of the nation's public school children.
There is nothing that limits a woman in her career pursuits except her own ability and dedication.
Equality has been achieved. There is nothing to fight over.
These "feminists" seem to have missed the notification that we won the equality we were seeking. They are so busy screaming for "equal rights" that they fail to recognize that we already have equal rights. They're not asking to be equal. They want special treatment, special consideration, and special rules because they are women.
There was a time I considered myself a feminist. Granddaughter of a suffragette, daughter of an independent woman, I claimed that title as a means for saying I was equal to men. I never believed that women should be treated differently, but all people, regardless of sex, race or religion, should be treated on their own individual merits and strengths. I was taught that "feminism" was a belief that women should have the same OPPORTUNITIES as men.
I tossed aside that title of "feminist" a few years back when I heard leading feminists making statements about men that I couldn't agree with. The idea that you deserve special treatment because you are a woman looks a great deal like putting a positive spin on the oppression my mother and grandmother fought against.
Do they know it is still sexism if the ones being oppressed are male?