Frédéric Bastiat was a contemporary with Alexis de Toqueville and they both came from France. Both were admirers of the United States who noted risks to that wonderful experiment in constitutional republicanism with democratic features. While Toqueville focused on the United States in the most familiar of his writing, Bastiat focused on France while touching on the United States system.  I find Bastiat's writing to be prescient. He spoke to his own time and society, but he could have been addressing his comments to American circa 2017.
To read the entire series, here is the Table of Contents.
Bastiat believed that there were only three possible ways for a society to use the law.
When the few plunder the many. (Partial Plunder)
When everybody plunders everybody else. (Universal Plunder)
When nobody plunders anybody. (Absence of Plunder)
Recognizing that people might not have considered these subjects, Bastiat examined these shades of plunder.
Partial plunder. This is the system that prevailed so long as the elective privilege was partial; a system that is resorted to, to avoid the invasion of socialism.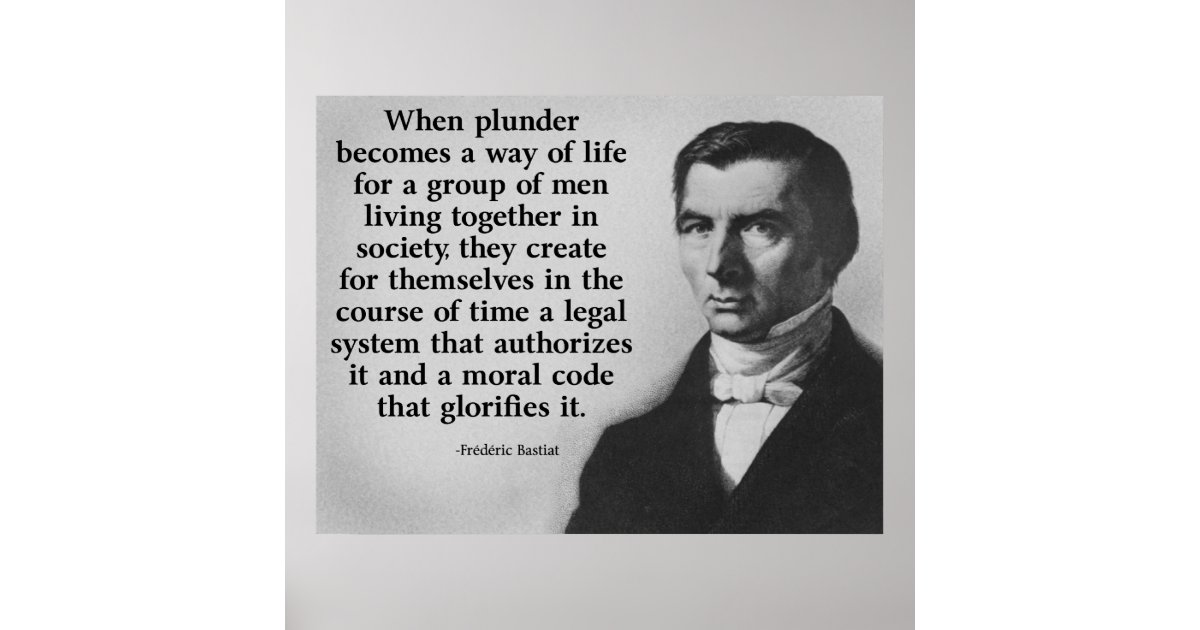 Universal plunder. We have been threatened by this system when the elective privilege has become universal; the masses having conceived the idea of making law, on the principle of legislators who had preceded them.
Absence of plunder. This is the principle of justice, peace, order, stability, conciliation, and of good sense, which I shall proclaim with all the force of my lungs (which is very inadequate, alas!) till the day of my death.
And, in all sincerity, can anything more be required at the hands of the law? Can the law, whose necessary sanction is force, be reasonably employed upon anything beyond securing to every one his right? I defy anyone to remove it from this circle without perverting it, and consequently turning force against right. And as this is the most fatal, the most illogical social perversion that can possibly be imagined, it must be admitted that the true solution, so much sought after, of the social problem, is contained in these simple words—LAW IS ORGANIZED JUSTICE.
Now it is important to remark, that to organize justice by law, that is to say by force, excludes the idea of organizing by law, or by force any manifestation whatever of human activity—labor, charity, agriculture, commerce, industry, instruction, the fine arts, or religion; for any one of these organizings would inevitably destroy the essential organization. How, in fact, can we imagine force encroaching upon the liberty of citizens without infringing upon justice, and so acting against its proper aim?
Here I am taking on the most popular prejudice of our time. It is not considered enough that law should be just, it must be philanthropic. It is not sufficient that it should
guarantee to every citizen the free and inoffensive exercise of his faculties, applied to his physical, intellectual, and moral development; it is required to extend well-being,
instruction, and morality, directly over the nation. This is the fascinating side of socialism.
But, I repeat it, these two missions of the law contradict each other. We have to choose between them. A citizen cannot at the same time be free and not free. Mr. de
Lamartine wrote to me one day thus: "Your doctrine is only the half of my program; you have stopped at liberty, I go on to fraternity." I answered him: "The second part
of your program will destroy the first." And in fact it is impossible for me to separate the word fraternity from the word voluntary. I cannot possibly conceive fraternity legally enforced, without liberty being legally destroyed, and justice legally trampled under foot. Legal plunder has two roots: one of them, as we have already seen, is in human greed; the other is in misconceived philanthropy.