And not for the right reasons!
After six years of the race card being retread over and over and over, the country is ripe for another round of riots like swept the country in the late 1960s.
We see it percolating in Ferguson and New York. Black people think the cops are treating them unfairly and that white culture is to blame.
And sometimes that may be true. But it would be lovely if we could approach these situations with common sense.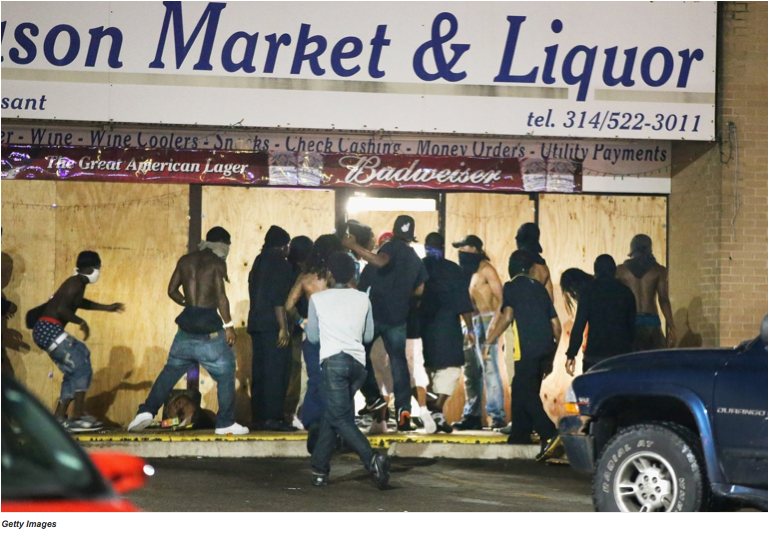 Michael Brown was a large aggressive young black male who robbed a store and, according to WITNESSES (almost all of whom were black), refused to stop at the direction of a police officer and then physically charged that officer, who subsequently shot Brown.
If a white young man had exhibited the same behavior, the outcome would have been the same. The officer feared for his life and moved to protect himself. Not having a gun or a knife did not make Michael Brown not dangerous. More people die in this country every year by being beaten to death than by being shot — by a factor of 5.
Unless we want to have the conversation about whether we need cops to protect the community from people like Michael Brown or the other conversation where we disarm cops completely and leave them as vulnerable as the Village Police Officers in Tanana, Alaska, then we must accept that it is reasonable for a police officer to take steps to protect himself from physical assault by a man who was much larger than himself.
Eric Garner was a completely different case, however. He was breaking the law, but a pretty silly law — selling untaxed cigarettes on the streets of New York City. It was a non-violent crime. When the cops approached him, he cooperated. I've watched the video and there is no evidence that he resisted. I'd be willing to bet that the police academy training Officer Pantaleo is referring to is Advanced Mandt which does not teach chokeholds and constantly reminds trainers and trainees not to compress the chest. In other words, the officer is lying or the Academy is violating its own training procedures.
But understand that is the difference here. Eric Garner was committing a non-violent crime and when approached by a police officer did not react with violence. Michael Brown had already robbed someone and was aggressive to the officer.
These cases are not the same at all, except that Garner and Brown were both black and the officers were both white.
I wish we knew why the New York grand jury ruled the way they did. That should be public information so that we can determine if the decision is racially motivated, as we can determine in the Ferguson case that the decision was behaviorally motivated. If you attack a cop, you should expect the cop to take measures to protect himself. If you're not acting violently, then you should have the expectation of not being killed by the cop who is arresting you.
Ultimately, we in this country must stop judging these cases by the color of the people involved and start judging them by the behavior of the actors. There would be very different grand jury outcomes if that were the case. The officer in Michael Brown's case would be allowed to return to duty after an investigation that revealed witnesses who saw what happened. Officer Pantaleo, however, based on the video, should be facing manslaughter charges.
I would also note — in Ferguson, they rioted and looted shops in the neighborhood Brown was already terrorizing. In New York, so far, the protests have been non-violent. It's interesting that the protests in support of a violent young man turned violent while the protests in support of a man who was strangled to death on tape did not.
Anyone want to comment on that difference?